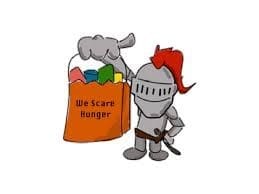 St. Thomas More's Halloween 4 Hunger (We Scare Hunger) is a long-standing school-based initiative that has aimed to raise awareness about local hunger, while collecting non-perishable food donations from surrounding neighborhoods on the West and Central Hamilton Mountain. Your generosity over the years has been unprecedented – last year we surpassed the 1,000,000 pound mark over our 20-year history! You have ensured that thousands of our neighbours who have suffered from food insecurity receive support over the fall and Christmas seasons – thank you!
In this, our 21st year, due to safety restrictions around COVID-19, we are sadly not able to have our traditional food drive, as the health and safety of our students must come first. But we cannot sit by and do nothing, especially since N2N is reporting a 42% increase in emergency food requests due to COVID-19. So, instead of a donation of food items, we are asking for your support with a monetary donation this year. We humbly ask for your generosity, and wholeheartedly appreciate any financial assistance you can provide.
We hope to see you at the door again next year. Until then, know that your financial support is giving real, genuine assistance to our neighbours who desperately need it!
From the bottom of our hearts, thank you!
St. Thomas More Halloween 4 Hunger Executive Team